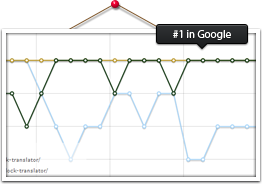 You can't just build links to your money sites and stop there, thinking that your sites are going to instantly rank higher.
In order for Google to reward you for having more links and rank you higher in their results, Google must actually KNOW those links exist... otherwise, they'll never think your site is important, and they'll never rank your sites high.
What we've done is we've created a brand new system that will get Google to naturally notice the links that you've been building, and start pushing that link juice and ranking power to our websites.
And LinkPipeline will do this for you 100% automatically. Our fully automated system will get your links quickly indexed for you.
All you have to do is plug your links into our "pipeline" and we do all the rest by automatically building links TO your links... strengthing the power of the links that you've already built, indexing those links, and giving you a faster, higher, and more stable ranking increase in Google.


LinkPipeline was built for ALL internet marketers, of all levels. Not just those that are already making a killing online.

Unlike other linking systems out there, you don't need to be a techie genius to use it. All you do is Add your links to LinkPipeline, click Submit, and we do the rest.

So go ahead and click the Add to Cart button next to the link package that best fits you, and get instant access to this automated link indexing system while the doors are still open.